Submitted by

Ewelina Wyrwal

on Mon, 2021-10-11 11:02
Date:
Tuesday, November 28, 2023 - 10:00
Price:
Free of charge - but you must book your place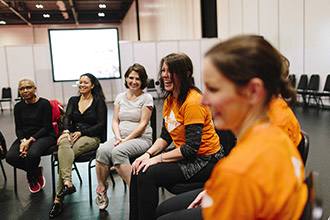 There are three sessions to choose from, on 28, 29 and 30 November.
**Come and join us at the Autumn Support Volunteer Forum **
You'll find peer support, information, and lively discussion. Share your stories and ideas for moving forward and hear from us about what's new in MS Support.
We will be joined by the MS Society Campaigns Team, who will give an overview of national campaigns as well as what support they can give you and your Group if there is a local/national issue you feel strongly about.
And if that's not exciting enough - to celebrate the work you do and the 70th anniversary of the MS Society (which was started by Volunteers), we will be including a quiz to warm you up for the festive season. There will be prizes...
Meeting online
This meeting will take place via Zoom, a video conferencing application (similar to FaceTime or Skype) that allows you to participate via your PC at home, your tablet or mobile phone. You may need to download the Zoom app to your device before you join a session.
Once you have registered for an event, the information for joining the meeting will be emailed to you.
Book your place now
Find out more
If you'd like to know more about the event, or are having difficulty booking your place, please contact Barbara.Sujecka ([email protected]).
Back to Volunteer Events page