Submitted by

Danielle Walker

on Mon, 2019-02-25 11:34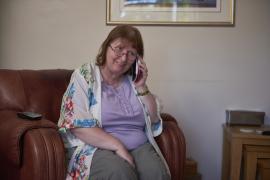 Could you spare a few hours a week to provide emotional support and information to people affected by MS? If so, our MS Helpline team would like to hear from you.
Our Helpline Volunteers operate from home, offering telephone-based emotional support and information for people affected by MS throughout the UK.
Our MS Helpline
The MS Helpline is open from Monday to Friday 9am to 7pm. All of our Helpline Volunteers carry out their MS Helpline volunteering from home and give emotional support and information to people affected by MS by telephone.
We are looking for volunteers that can commit to a 3 or 4 hour telephone shift a week.
Our selection process
If you are shortlisted, we'll have an informal chat between 8-16th April over the telephone – this will take approximately an hour and will include a short role play. Successful candidates will then need to attend the first training sessions in London on 15th and 16th May.
Following the initial two days of training, successful candidates will need to commit to attending weekly telephone/online training for eight weeks every Wednesday during the daytime (training approx. 1.5 hours per week).
Travel expenses for attending training in London will be reimbursed.
Find out more and apply
To find out more about volunteering with our MS Helpline, contact Emma Chudley at emma.chudley@mssociety.org.uk or on 020 8438 0837.
Go to Online Recruitment to apply for this role
Deadline for applications - 1 April at 9am.
Back to Volunteering with us