Submitted by

Anonymous (not verified)

on Thu, 2012-04-19 15:36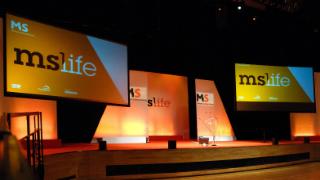 A huge thank you to all the staff and volunteers who have helped make MS Life in Manchester last weekend such a huge success. We are finalising the figures, but it looks like over 3,000 people attended over the weekend making it the biggest single MS event in the world!
Those who were there will know that the event was outstanding - so many people affected by MS hearing the latest on research, participating in lively discussions, learning more about MS and the MS Society, and having fun.
I know that our guests really valued the welcome they received, and the warmth and friendliness shown by the MS Society's staff and volunteers. I was humbled and inspired by what I heard and saw.
I am proud to be working alongside so many colleagues and volunteers who are determined to beat MS - thank you to everyone who played a part in MS Life this year, whether at the event itself or in preparing for it.
With best wishes
Simon Gillespie, Chief Executive
What a fantastic event MS Life was. Thank you for making it the success it undoubtedly was. Now I understand how important the commitment of staff and volunteers working together is – the Hub was abuzz with life, energy, friendly support and advice, and the transformation of such an enormous space into a calm but exciting place to be was totally mind-blowing. In fact, when I was asked to encapsulate my reactions in just one word, that was the one I used: MIND-BLOWING. To meet and hear so many inspirational people, from the researchers to the care specialists, from people with MS to those affected by it was a truly motivating experience. It all serves to reinforce our determination to Beat MS.
Thank you for your time, effort, support and commitment to our mission.
Best wishes
Hilary Sears, Chairman