Submitted by

Anonymous (not verified)

on Fri, 2014-07-11 10:49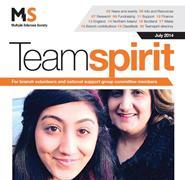 The brand new edition of Teamspirit will be landing on your doormat or in your inbox shortly, and, as ever, it's packed with the latest news, events and information to help you run your branch effectively.
Highlights of this issue include an update on the Treat Me Right Campaign activity during MS Week, the launch of ChallengeMS, information about our latest programme of Treasurers' Forums, and news from around the nations. Read the full edition and download the PDF or Word version for newsltter editors here.
Teamspirit is our bimonthly newsletter for branch officers and national support group committee members, so if you're in this role but not on our mailing list, please get in touch: [email protected].
Don't forget that Teamspirit is available as an e-newsletter as well as a publication, so if you would prefer to receive your copy by email, please let us know: [email protected].