Submitted by

Anonymous (not verified)

on Fri, 2014-11-07 12:04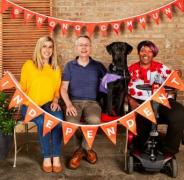 Our new five year strategy, Together to beat MS, is now available to view on our website or download from the Resource library.
Our strategy sets out the seven organisational goals that we'll be working towards over the next five years, and the steps we'll take to get there. It also describes how we'll work alongside people affected by MS, professionals and other organisations to make sure our work has the impact it needs, and makes a real and positive difference in the lives of people affected by MS.
Our dedicated volunteers are crucial to our success, and that's why our strategy features beautiful pictures of some of them (and a dog!) representing our goals. It's only by working together that we'll achieve the goals people affected by MS want us to achieve.
We need your support and involvement as we move into this exciting new phase, and we look forward to working with you over the coming months to think about how best we can implement the strategy locally.
If you have any questions or comments about our new strategy, please contact the Strategy and Impact team on 020 8438 0850 or email [email protected].