Submitted by

Danielle Walker

on Tue, 2016-03-22 15:45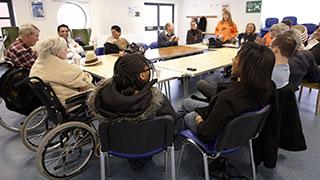 As part of our ongoing commitment to volunteers, we're in the process of developing our 2016-2019 Volunteering Strategy. This will set out how we intend to support our volunteers - and ultimately people with and affected by MS - over the next four years.
Over the last few months we've gathered information about volunteering from staff and volunteers across the organisation. These findings have produced a number of key themes and recommendations.
We want to hear from you about these recommendations; as volunteers, your input and feedback is vital to ensure we get the Volunteering Strategy right.
We'd particularly like to hear your views in relation to the following questions:
Do the key themes and general approach feel right?
Is there anything missing?
Do you have any suggestions which you feel will help us write and deliver the strategy?
There are lots of ways to share your opinions and feedback. You can:
Attend a workshop
We will be holding a series of face to face workshops throughout the UK. To ensure that everyone is able to participate fully in these sessions, we are limiting numbers to around 20 per session.
Join a phone and video conference
Our phone and video conferences will enable you to join other volunteers in a discussion about Volunteering Strategy recommendations without the need to travel. These conferences will be shorter than the workshops and timings will be determined by volunteer preferences. You can join a phone and video conference on one of these dates:
Thursday 14 April
Monday 18 April
Friday 22 April
Monday 25 April
Write or speak to us
If you can't make one of our workshops, or phone and video conferences, we welcome you to share your opinions via email, letter or 1-1 phone conversation between 11th and 29th April.
Interested in getting involved?
Let us know how you would like to share your views with us.
Please send your name, volunteer role, contact details and preferred format (workshop, phone and video conference, or 1-1 phone conversation) to us at:
Phone: 0203 828 6861
Post: Volunteering Team, MS National Centre, 372 Edgware Road, London NW2 6ND
We hope you can help us shape a Volunteering Strategy that will ensure the MS Society is an excellent place to volunteer. We look forward to hearing from you.
Back to volunteering basics