Submitted by

Danielle Walker

on Tue, 2018-01-23 10:15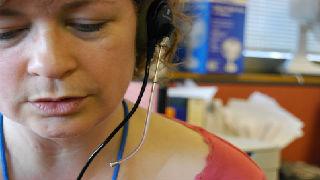 Are you a good listener?
Could you spare a few hours a week to provide emotional support and information for people affected by MS? If so, our MS Helpline team would like to hear from you.
Our MS Helpline
Our MS Helpline is open from Monday to Friday, 9am to 7pm. All of our Helpline Volunteers carry out their MS Helpline volunteering from home and give emotional support and information to people affected by MS by telephone.
We are looking for volunteers who can commit to a 3-4 hour telephone shift per week.
About you
We don't expect you to have previous experience, but we are looking for people with good listening skills and a clear, warm telephone voice. You should have good IT skills as the role will require use of Microsoft Office such as Word and Outlook, internal databases and call handling system. You will receive training on the internal databases and call handling system.
Set up and equipment
We need you to have access to a confidential and comfortable working space, computer and broadband suitable for MS Helpline volunteering. You will also need a landline for teleconferencing training sessions. If you are shortlisted for an informal chat, we will ask you about your home and equipment set up, as unfortunately not everyone may have the appropriate set up and equipment for MS Helpline volunteering.
Shortlisting and training dates
If you are shortlisted, we will need you to be available for an informal phone chat between 7-16 March - this will take approximately an hour and will include a short role play.
You'll receive full training starting with a two day training session in London on 18 and 19 April that you must attend in person. The rest of your training is carried out by weekly teleconference sessions. You will need to commit to attending a weekly training session every Wednesday, during the daytime, over an eight week period, and pass two assessments before being accepted onto the MS Helpline volunteer programme. Each training session will be around 90 minutes long, with reading and some tasks in between sessions.
We will reimburse your travel expenses for attending training in London.
Interested?
To apply for this role, please complete our online Helpline Volunteer Application Form
For more information, please email abigail.stidston@mssociety.org.uk or call 020 8438 0791.
The deadline for applications is 28 February.
Back to Supporting people