Submitted by

Danielle Walker

on Wed, 2018-05-16 12:03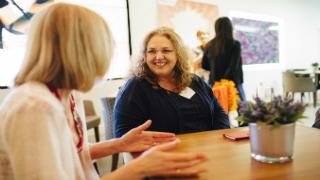 We are looking to recruit Advisory Panel Members to provide us guidance on creating a volunteer recruitment leaflet and poster. As an Advisory Panel Member you will provide feedback and answer questions ranging from graphics to language, so the resources we create work effectively for those who recruit on the ground.
What does this role involve?
This role will be based from home and you will provide feedback over the email or phone. We estimate it will take between 3-4 hours. Ideally but not necessarily, you will have experience in marketing or branding, but more importantly you will be happy to share your opinions, have a keen eye for detail and experience of recruiting volunteers. You'll also have an interest in the MS Society and the work that we do.
How to apply
The closing date for this role is 20/05/2018. Please read through the role description and brief carefully. Or for further information contact Sam Shepherd at volunteering@mssociety.org.uk.
Go to our Advisory Panel Member role description
Read the brief for this project - Physical resources marketing volunteer brief
We are committed to promoting diversity. We can only offer roles to over 18s.
Back to Volunteering with us