Submitted by

Lindsey Hodgson

on Wed, 2018-10-10 16:21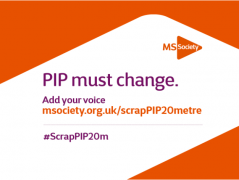 Back in June, we launched our biggest campaign on Personal Independence Payment (PIP) yet. We called on the UK Government to scrap the PIP 20 metre rule. Since then, thousands of people from across the MS community have joined the call.
We'll be handing in the petition to the UK Government on Wednesday 17 October. If you haven't already, please sign and share the petition. It will close on Sunday 14 October.
We also wrote to the UK Government about how the rule is failing people with MS. Their response didn't address many of our concerns or answer all our questions. Yet, we know that the PIP 20 metre rule is the main reason why people with MS aren't getting the support they need.
That's why, as part of the final push of the petition, we'll be sharing images contrasting the experiences of people with MS with the response from the UK Government. We'll be sharing these on social media - check them out on Twitter @mssocietyUK and join the conversation.
Then, next week, we'll be heading to Westminster to build 'PIPville'. PIPville, population 9400, represents the people with MS who've lost out.
Watch out for 'PIPville' teasers on the @mssocietyUK Twitter channel before Wednesday 17 October. In the meantime, please sign and share the petition