Submitted by

Danielle Walker

on Fri, 2018-11-09 15:23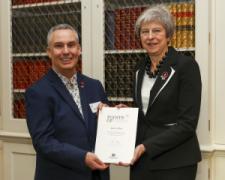 On 5 November volunteers, supporters, campaigners and ambassadors from across the MS community came together for a reception at 10 Downing Street, hosted by the Prime Minister, Theresa May. We were honoured the Prime Minister gave us this special opportunity to celebrate our successes so far in the advancements in MS research into new treatments, and the wonderful contributions of volunteers in supporting people living and affected by MS.
During the reception volunteer David Allen, from Luton, was recognised by the Prime Minister and awarded the prestigious Points of Light award, which celebrates the outstanding work of volunteers. David has contributed greatly to the MS Society, supporting the End the Care Crisis campaign and through being involved in the development of MS Enough. David is living with primary progressive MS and his work has completely transformed his local MS group. We're thrilled David was selected as the recipient.
The Prime Minister also met and personally thanked volunteers from across the UK, including Patricia Crossley from Ballymoney, Rosemoary Tocock from Reading, Lillian Malcolm from Dundee, and Terry Moseley from Swansea. They spoke to the Prime Minister about the support their groups offer and the money they have raised for MS research.
The Prime Minister also talked about her own experiences of her mother who had MS and praised the commitment of the MS community saying, "I know from my own family's experience how incredibly tough living with MS can be and how it changes lives profoundly. The work that the MS Society does not only improves the lives of those diagnosed with the condition, through funding new research but also provides much needed support for them and their loved ones. This is only possible through the tireless dedication of incredible volunteers like David and I am delighted to be able to present him with a Points of Light award."
Patricia Gordon, our Acting CEO, attended the reception and said, "David has made a huge contribution to the MS Society over the last five years, and his continued support and dedication is invaluable. It was fantastic to see him presented with a Points of Light Award by the Prime Minister at an event to celebrate our volunteers and advancements in MS research. It was a great way to thank him for his work, and something we will all remember for a very long time.
"We're driving research into more – and better – treatments, and David's unwavering dedication and passion will help us every step of the way. Together, we're strong enough to stop MS."
Read more about David at www.pointsoflight.gov.uk/ms-society-champion/