Submitted by

Danielle Walker

on Mon, 2019-01-21 09:20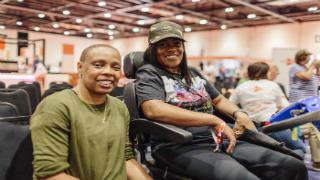 This year we'll be reviewing the ways we celebrate the difference our volunteers make within the MS community. You have an enormous impact and it's important that we recognise your many contributions.
Over the next few months, we'll be asking for your ideas and feedback on the best ways to recognise our volunteers. Please look out for information about how you can get involved.
While we undertake this review, we've decided not to hold the MS Awards ceremony this year. We're very proud of this prestigious event, but it only involves a small proportion of our volunteer community.
We want to make sure that in the future, we maintain the high profile we've worked hard to build, whilst celebrating more of our volunteers and getting the best value for money we can.
Until then, we have lots of other ways to celebrate your achievements, including thank you cards, certificates of appreciation and our newly relaunched Shining Star Awards.
See how we recognise volunteer contributions
Find out how to nominate a Shining Star
Back to Volunteering with us