Submitted by

Danielle Walker

on Mon, 2019-02-04 08:11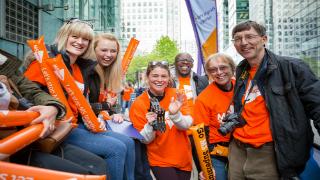 Well done everyone!
We're thrilled to announce that our Volunteering Programme has achieved the prestigious Investing in Volunteers (IiV) accreditation. We applied for the Award in 2017 and worked towards it through a process of planning, improvements and assessment in 2018.
New Chief Executive, Nick Moberly said:
"I am thrilled as new CEO to learn of this achievement. Being awarded Investing in Volunteers (IiV) status is a wonderful recognition of the time and effort our volunteers give to support people living with and affected by MS. At the heart of our vision, we couldn't achieve all that we do without their incredible dedication, every single day of the year, across the UK.
The Award demonstrates our commitment to providing quality volunteer programmes throughout the organisation through transparent and fair recruitment of volunteers, comprehensive training, and on-going personal development and support.
IiV also recognises that we really value our volunteers' commitment, and strive to support them in their roles by providing opportunities to develop both personally and professionally. A big thank you to everyone that took part in the assessment and shared their experiences and ideas.
This Award is based on our volunteers' experience of volunteering with us and therefore a big thank you is also due to everyone who works with, supports and is involved with volunteers as part of what we do, if we were not doing great stuff consistently we wouldn't have achieved IiV status. Well done everyone".
Learn more about Our Investing in Volunteers (IiV) journey
Celebrating our strengths
The IiV Award means that we can celebrate what we're really good at:
Room for improvement
While we have fully met all of the requirements of the IiV standard, the assessment identified a number of things we think we can do better:
Ensuring that we include you in all that we do
Improving how we communicate with you
Making sure you know how you can get additional support or raise an issue
Improving consistency in how our policies and practices are applied across local groups
What's next?
We will act on these recommendations by identifying what we need to do next, how we will do it and how best we can involve you.
For more information, contact Julie McWilliam, Volunteering Programme Manager at julie.mcwilliam@mssociety.org.uk
Back to Volunteering with us