Submitted by

Danielle Walker

on Thu, 2019-03-07 16:32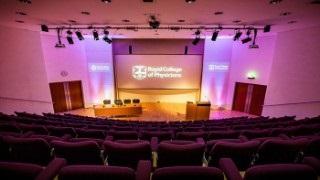 We're delighted to invite you to attend this year's Stop MS Appeal Annual Lecture, which is taking place at the Royal College of Physicians at 6:45pm on Wednesday 1 May 2019.
The lecture will be given by Richard Reynolds, Professor of Cellular Neurobiology at Imperial College and Scientific Director of the MS Society Tissue Bank.
'Drug development for progressive MS: How close are we to success?
Professor Richard Reynolds will present his lecture: 'Drug development for progressive MS: How close are we to success?'
The evening will begin with drinks and canapés from 6:45pm, with the lecture starting promptly at 7:15pm, and followed by a panel session with our eminent Stop MS Scientific Ambassadors.
In addition, there will be time after the lecture to meet some of our Scientific Ambassadors and chat to them about a huge breadth of MS research.
Book your place
You can also email Hettie Tetteh (Special Events Officer) at hettie.tetteh@mssociety.org.uk with any questions you may have. The venue is fully accessible, but there are a limited number of wheelchair spaces. Contact Hettie to discuss your access requirements.
If you are not able to attend, we will be livestreaming the lecture on our YouTube channel, as well as on demand after the event.