Submitted by

Danielle Walker

on Fri, 2019-03-15 17:50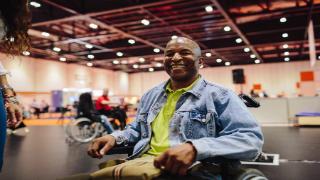 We've just finished updating the Group Handbook to reflect all recent changes to the online tools, processes and resources that support your group to offer quality services and activities for your local MS community.
What's changed?
We've put together an overview of what's in each section of the Group Handbook, and what's changed in 2019.
Download our Group Handbook updates 2019
Key updates
MS Society email
We're upgrading MS Society email to give your group and specific individual volunteers more ways to communicate with others, and within your team, whilst ensuring that we comply with current data protection legislation. The Group Handbook now includes information about who needs an MS Society email address and when you must use it.
Find out more about Using MS Society email
Book your place on a Getting familiar with MS Society email online training session
Online Shop
Our new Online Shop is now open, enabling your group to order MS Society branded materials and information resources without charge. You'll need to set up a new group account before you place your first order.
Learn more about Using our Online Shop
Find out How to set up your group account
Delivering quality services
We've also changed the way we support your group to plan and deliver quality services. Instead of asking you to work towards formally assessed Quality Standards, we will support you to provide accessible, safe, impactful services with our Service Level Agreement (SLA) templates and new safeguarding risk guidance.
Go to our new web section on Providing quality services and activities
Find out more about Service level agreements
Where can I find the Group Handbook?
As usual, you can view the Group Handbook in its entirety, or as individual sections right here on our volunteer website. You can also click through to the relevant section from any web page that covers a particular topic.
Download our Group Handbook - full version
See individual sections of our Group Handbook
Requesting a printed copy
You can also request a printed copy by contacting our Services and Support Admin Team on 020 3828 6861 or at s&sadminteam@mssociety.org.uk.
When you've received your printed copy, please destroy any previous ones to ensure you're always using the most up to date version.
Back to Running a group