Submitted by

Danielle Walker

on Tue, 2019-05-07 16:37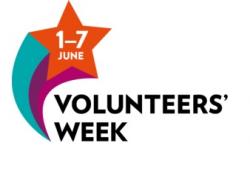 Are you ready to celebrate Volunteers' Week with us this year?
Volunteers' Week is a national celebration of everything that is great about volunteering. From 1-7 June, organisations throughout the UK will be going all out to shout about the impact their volunteers deliver. We believe our volunteers are the best of the best, and we intend to make sure everyone knows it!
Get loud about volunteering
We'll be getting loud about our volunteers through our social media channels, sharing case studies, blogs and articles about volunteering experiences and opportunities to volunteer with us. In our offices, we'll be talking to staff teams about the incredible impact and engagement of our volunteers. And we'll be telling everyone about our inspirational Shining Stars and highlighting the massive role you all play in our work to stop MS.
We would love you to join our Volunteers' Week celebrations. If you haven't already done so, you could still:
We hope you all have a fantastic Volunteers' Week!
If you have any questions about our Volunteers' Week celebrations, please do not hesitate to get in touch with our Volunteering Team at volunteering@mssociety.org.uk.
Back to Volunteering with us