Submitted by

Danielle Walker

on Fri, 2019-06-07 08:50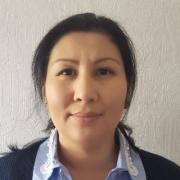 Happy #VolunteersWeek! All week, we're celebrating our volunteers, the contributions they make to our work, and the positive impact volunteering has on their lives.
Meet Nurjamal - Nurjamal started volunteering with her local MS Society group while studying accounting at university...
My role as a Finance Volunteer
I wanted to gain work experience in my field. As a Finance Volunteer I analysed accounting transactions, and various other tasks related to accounting, budgeting, and income and expenses.
Even when our group got smaller and had fewer members, I stayed on because we had a good team where everyone was very understanding. I was always available when someone needed any help, and tried to help in improving the group's running.
Helping others and gaining new skills
This role was a great opportunity for me to improve my skills and help others. I gained many new skills in finance such as online accounting, planning, and presenting. Volunteering also helped boost my self-esteem as well as my communication, decision making, and time-management skills.
I met many new people through volunteering. I enjoyed helping others and feeling needed in my group. It was very rewarding to help others, to talk and spend time with members and to feel I was making a difference in someone's life.
My Shining Star award
I also enjoyed all the events our group organized such as information evenings. After the events, the members always smile and come and say thank you. They feel very grateful to the MS Society and it gives me a good feeling to help others.
I received my Shining Star award at a Christmas event organized by our group. I did not expect it and felt almost in tears! I was very grateful for my contribution being recognized. After receiving the award, I continue to volunteer because I like my team, gaining new skills, and helping others through my role.
Inspired by Nurjamal's story? Find out more about how we recognise your contributions