Submitted by

Danielle Walker

on Fri, 2019-06-07 18:28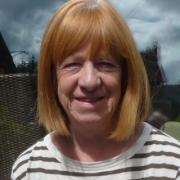 Happy #VolunteersWeek! All week, we're celebrating our volunteers, the contributions they make to our work, and the positive impact volunteering has on their lives.
Meet Ruth - Ruth didn't know anything about MS but used her experience as a teacher to help her local group grow and improve...
Using my skills to help people with MS
When I retired from teaching in 2007 I wanted to give back and do some volunteering. I didn't know anything about MS before I joined my local group. They were looking for someone to help young people, so my teaching experience was perfect.
I led the group for six years, and have helped with lots of different things over the years. I now run the group's newsletter which comes out four times a year.
Adapting to what others need
Each day is different and the tasks are varied – it's quite a full time role! I work with other local groups, MS nurses and the regional teams from the MS Society. The needs of the group are always changing, and so does my role.
We had a lunch club, but the venue wasn't very accessible so I changed where we held it. People with MS have lots of different needs and we want everyone to get involved so I do what I can to make this possible.
There's lots of different events, from social lunches to information days. I think the most important thing is to run events people want to go to. For the groups anniversary we held a big cake event which was lots of fun, and we have coffee meetings every month to catch up. We've already started planning our Christmas lunch with a special dinner.
Learning from people with MS
I love being with people, learning from other members and helping run the group. It's great seeing people with MS who are so determined and courageous. I've learned so much about MS and the ways we can best help people. It's really taught me how to manage challenges and conquer them.
I still help the group by organising the quiz night and doing the newsletter. It's really satisfying. It's important to keep people informed about events that can improve their lives.
Inspired by Ruth's story? Find out more about providing quality services and activities