Submitted by

Danielle Walker

on Thu, 2019-06-06 11:36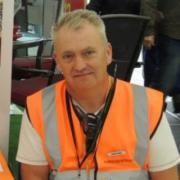 Happy #VolunteersWeek! All week, we're celebrating our volunteers, the contributions they make to our work, and the positive impact volunteering has on their lives.
Meet Kevin - Kevin has been volunteering with his local group since 2008, not long after his wife was diagnosed with MS...
How it all began
I first came across the MS Society online when I did an internet search for information about multiple sclerosis after my wife's diagnosis.
My wife and I started going to social events at our local MS Society group, and I started to help out. Getting involved with the local group I received more information than I had found searching on the internet. And more importantly our local group is like a family or community.
That family feeling
Having received support and understanding from our local group, I wanted to give back through fundraising and volunteering. I organised projects and fundraising events, eventually taking on the role of Group Coordinator. Whilst this role has many responsibilities and commitments, the group volunteers are very helpful and hardworking.
Looking to the future
I've been volunteering since 2008 and continue to be involved with the MS Society after receiving my Shining Star Award. My current goal is to organise exciting fundraisers and events like dinners and dances. I also want to get young people involved.
The important part is getting people to come to socials and events. Once they come, they see so many people with a positive attitude and energy. Then, they almost always come back.
My advice to prospective volunteers is to come along to a few events and be open minded.
Inspired by Kevin's story? Find out more about Running a group