Submitted by

Danielle Walker

on Thu, 2019-10-17 17:37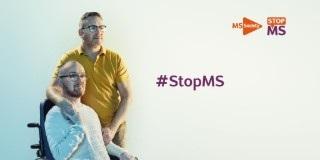 Don't worry if you didn't catch our Stop MS ad on Channel 4 last week - there are lots more chances to see it!
Stop MS TV ad slots
Our ad will be shown during the these shows:
Thursday 17 October - Live at the Apollo on Dave (around 21.10)
Tuesday 22 October - QI XL on Dave (around 21:25)
Wednesday 23 October - The Inspector Alleyn Mysteries on Drama (around 21:20)
Thursday 24 October - Have I Got a Bit More News for You on Dave (around 20:30)
Monday 28 October - Death in Paradise (21:45) and New Tricks (22:45) on Drama.
The advert will also screen in some cinemas from the end of October, but I'm afraid we don't have details of exactly where – do look out for it!
Telegraph coverage
Thanks to our partnership with the Telegraph there's already loads of lovely content on their site.
Check it out at www.telegraph.co.uk/health-fitness/living-with-ms/
On Friday 18 October there'll be a homepage takeover of Telegraph.co.uk driving traffic directly to the main MS Society website. And on Saturday 19 October, we'll have one of our ads in print in the Daily Telegraph, alongside a donation coupon for the Appeal.
Back to Stop MS Appeal