Submitted by

Jo Webber

on Fri, 2020-10-09 13:07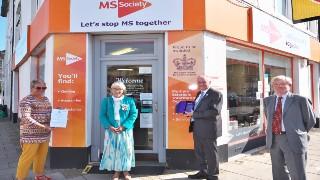 Back in June, we were delighted to announce that our Isle of Wight Group had received the Queen's Award for Voluntary Service, which is the highest award a voluntary group can receive in the UK. Now, they finally have it in their hands.
The Island's Lord Lieutenant and one of her deputies recently visited our shop in Shanklin to present the engraved crystal award, along with a certificate from HM The Queen. It recognises all the emotional, financial and wellbeing support the group provide to those on the Island affected by MS.
Group Coordinator, Paul Brading, said: "We are truly honoured to have received this prestigious award, recognising the range of support we offer to Islanders. Funds are raised primarily through our shop in Shanklin, and all the money we raise is spent on the Island."
Finance Volunteer, Susan Smith, said: "This award is well deserved by our Shop Manager and wonderful team of over 30 volunteers, both in the shop and coordinating group. They thoroughly deserve this acknowledgement of their efforts in supporting our local MS community. We firmly believe that building a friendship network can really help people when they most need it and prevents isolation."
Due to social restrictions, the group have not been able to have the celebration they deserve, but assure us they will put this right once it's safe for all their dedicated volunteers to get together again.
Congratulations to you all!
(Photos courtesy of Michael Dunkason)