Submitted by

Romi Rauber

on Fri, 2021-02-26 12:28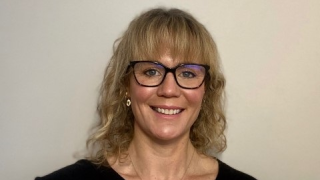 Following the departure of Emma Whitcombe in December 2020, we're delighted to welcome our new Executive Director of Engagement and Income Generation. Clare Horwood joined us on Monday 22 February after 15 years' experience in the charity sector.
She's worked at organisations including Target Ovarian Cancer, Shelter, Diabetes UK and Mind. And taken on a variety of roles in this time as well covering Individual Giving, Major Donors, Public Fundraising, Associate Director and Director of Fundraising.
Now, a week into the role, our Internal Communications team caught up with Clare to find out a bit more about her background.
Hi Clare!
How are you feeling about starting at the MS Society?
I am so excited about starting! I am really looking forward to meeting everyone and getting to know more about all the great work the MS Society is doing.
What brought you here?
The combination of a great cause, great role and team and good timing. Moving to a charity that is on a transformation journey, while also taking on a broader engagement approach is a really exciting time to be joining.
Do you have a personal connection to MS you'd be happy to tell us about/share?
I don't have a personal connection. I find the fact that MS affects so many young adults, and women in particular, to be particularly motivating.
What are you looking forward to getting stuck into here?
All of it really! I'm looking forward to working on our Stop MS appeal. Also, our overall engagement strategy and approach really excites me.
I'm also aware of how difficult it is for everyone at the moment with restrictions still in place, and for me a really important goal is to provide clear and compassionate leadership and ensure the wellbeing of the team is supported. Also, to make sure we have the right foundations in place for innovating as we start to understand what the post COVID-19 world will look like for people living with MS, for fundraising and for the workplace.
Name something positive you have learnt or experienced during the past year / recent lockdown?
The value of our local park and community of friends. Also, the value of taking things slowly and not having plans all the time. Previously, life was always a million miles an hour packed with activities, so we've quite enjoyed weekends with fewer plans.
That said, I can't wait to get back to museums, galleries, restaurants and mostly being able to go to other people's houses.
Many of you will have contact with Clare in due course, and we'll be sure to ask her along to a volunteer voice event once she's settled in.