Submitted by

Romi Rauber

on Fri, 2021-04-23 14:57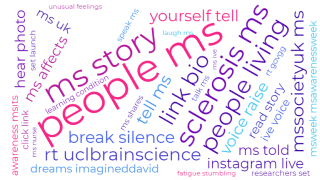 We know talking about MS can be hard, so we asked over 800 people living with MS what they believed were the barriers to speaking out.
National press coverage
On Monday we kicked off by releasing our survey findings, which showed a third (35%) of people living with MS have kept their condition a secret. As part of this story, we spoke to supporters from across the country to hear their experiences of opening up about MS. So far, their stories have appeared in Charity Today, The Scotsman, Edinburgh Evening News, and been covered by regional broadcasters including BBC Radio Somerset, ITV Anglia and BBC Radio Tees.
On top of this, we've been working with Benjamin Cohen, founder and CEO of PinkNews. In support of our campaign, he wrote an exclusive comment piece for iNews about why opening up about MS is not always easy.
Community stories
Throughout the week we've been sharing daily blogs from our community. Our Ambassador and Paralympic Swimmer, Stephanie Millward MBE, spoke out about her eight-year struggle to open up about MS.
Make-up artist and former YouTuber Nic Haste revealed why she's choosing to be more open about her MS. Asian MS shared the top 6 myths about MS in the south Asian community. And Elisha told us about her Instagram videos #ConversationsWithMyMS.
Laughing in the face of MS
Elsewhere, we teamed with Robin Hatcher who is part of the comedy improv band The Noise Next Door. With help from our community – and using Robin's own experience of living with MS – the band created a music video about MS.
Helping people speak up about MS
We've made sure to signpost to resources to help people start a conversation about MS. And our Northern Ireland Volunteer Counsellor Wendy has shared her top tips for talking about MS.
1.9 million people have seen our hashtag #LetsTalkMS
We've been keeping an eye on the stats and can share that so far 1.9 million people have seen our hashtag #LetsTalkMS this week. Across Instagram and Twitter we've had 541 mentions, 8,200 interactions and 6,000 likes.
We want to say a big thank you to everyone who's shared their stories and supported MS Awareness Week by engaging with our social media content.
Keep an eye out on our social media and MS Awareness Week landing page for more exciting content to come! mssociety.org.uk/msweek