Submitted by

Jo Webber

on Thu, 2021-04-22 15:28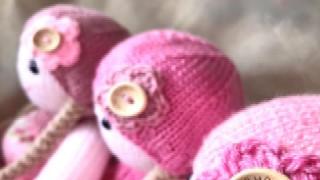 Due to increased demand, current supporter group Mary's Snowflake Creations are looking for volunteer knitters and crocheters to join the team. Catherine and Winnie create beautiful knitted and crocheted items for us, and have raised over £7,000 since 2014.
Catherine said: "After many years of unexplained and 'strange' ill-health, I was diagnosed as having multiple sclerosis in 2012, after a particularly severe brain stem attack left me quite poorly with significant disabilities.
After nearly a year of waiting to 'get better' and only getting worse, I was medically retired from my much-cherished career and, after initially wallowing, I set my mind to how I could give something back to the charity that had provided me with much needed support through this adjustment period.
I had always enjoyed knitting and decided to pick up my needles again and create! Only this time I posted photos of my knits on Facebook. People started commenting, admiring and asking me to make things for them, and the idea started to form. I decided if I only charged for the products used and donated my labour, then I could ask people to donate to the MS Society.
In September of this year, a friend, who also lives with MS, told me that I had inspired her to pick up her needles after many years. I was so impressed by her ability and orders were constant, so I asked her to join me. Thankfully, she agreed. So, Mary's Snowflake Creations became a team of two with Pat (aka Winnie) becoming a highly valued and much-loved addition."
If you'd like to join Catherine and Winnie and put your knitting or crochet talents to excellent use, please get in touch at [email protected] by 21 May.
All you have to do is dedicate a few hours a week on an ongoing basis. All the materials required to create an order will be sent to you and the postage arranged and paid.