Submitted by

Jo Webber

on Fri, 2021-06-18 09:56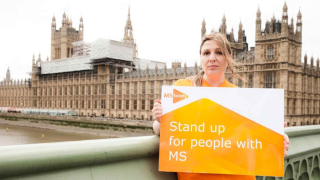 We've joined a coalition of 18 charities – including Kidney Care UK and Blood Cancer UK – to call on employers to put extra measures in place for vulnerable staff going back to work.
This is in light of growing evidence that the COVID-19 vaccines provide less protection to some people with a weakened immune response due to a specific health condition or treatment.
Whilst evidence at the moment suggests that some DMTs might make the vaccine less effective, MS itself isn't thought to affect the protection the vaccine provides against COVID-19. For more information about COVID-19 and MS, please visit our website.
Alongside the other charities, the measures we're calling for include flexible working hours, so staff can avoid peak travel times, and allowing at risk employees to work at home where possible.
Fredi Cavander-Attwood, Policy Manager at the MS Society, said: "With COVID-19 cases increasing again it is unacceptable that groups of people who might not be fully protected by the vaccine, including some living with MS, are being forced to return to work.
"Many are clinically extremely vulnerable and are still being advised by the Government to remain cautious. It is vital that employers carry out individual risk assessments and listen to the needs of workers. No-one should be forced to choose between their health and their livelihood if they can't work safely."
If you, or someone you know, has MS and you have any questions about returning to work, give our MS Helpline a call on 0808 800 8000.