Submitted by

Jo Webber

on Fri, 2021-07-16 09:57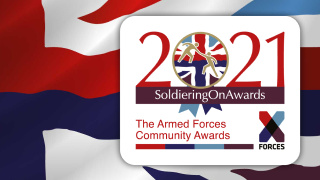 Congratulations to our Mutual Support Group who have been nominated as one of three finalists in the Family Values category of this year's Soldiering On Awards (Armed Forces Community Awards).
Mutual Support started 30 years ago to support serving and ex-serving members of the Armed Forces affected by MS, as well as their dependants and carers. It's the only MS group to offer tailored support and guidance for the specialist and geographical needs of the military community.
The group provides safe environments for members to share their experiences and to talk about the impact MS has had on their lives. Support and respite weekends inform, engage and support those members who are suffering displacement, isolation and deprivation.
Through collaboration with medical professionals, the Department for Work and Pensions (DWP) and other agencies, the group is able to provide information and support to over 1000 members.
Thank you
This is well-deserved recognition of what the group's volunteer team, past and present, have done and continue to do to inform, engage and support their MS community.
The winners of each category will be announced during a series of online events to be held this autumn. All being well, and in line with government guidance, finalists and winners will be celebrated at a Black-Tie gala reception and dinner at the Park Plaza Westminster Bridge Hotel, London, in December.
Good luck and thank you to the volunteers at Mutual Support Group!
For more information, visit the Soldiering On Awards webpage here.