Submitted by

Jo Webber

on Fri, 2021-07-16 10:03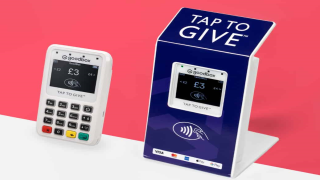 We're delighted that the gradual easing of lockdown has meant we can support a return to some group fundraising activities, such as street and store collections. But, with fewer people now carrying cash, it's more important than ever for us to have an effective solution for receiving donations by card.


Before the pandemic, we had encouraged the use of iZettle devices, but it became clear that these weren't meeting our needs across the organisation. And, now that iZettle are owned by PayPal, it's no longer possible for groups to have their own, separate, accounts.
Selecting a new supplier
After a detailed tender process, we're pleased to announce that we've selected GoodBox as our new contactless donation supplier. A huge 'thank you' goes to all the volunteers and groups who provided their thoughts, experiences and fundraising needs to help us with the selection.
Our main criteria for selecting a new supplier were that a device must:
Handle data to a high level of security
Be standalone (not needing additional phones or tablets to work)
Take donations even in places with no mobile or WiFi signal
Take fixed repeat donations quickly (eg at train stations)
Be suitable to leave unattended in shops or at events
Be user friendly (in terms of both holding and operating it)
Be cost effective
Only two suppliers were able to meet all our requirements, and the GoodBox Mini device was the winner on cost and flexibility.
What happens now?
We're finalising details with GoodBox right now. And in our next email (30 July), we'll give you all the information you need to set up an account and order the new devices.
Thanks for bearing with us while we made the decision. We look forward to the opportunities that the new system will present for group fundraising!
[If your group wishes to restart fundraising activities, please read our information here, and attend one of our Zoom sessions, to ensure this happens safely.]