Submitted by

Romi Rauber

on Mon, 2021-07-26 14:29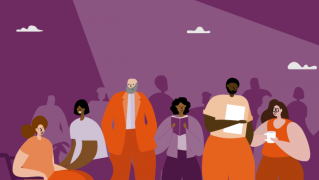 Introducing For you
At our Annual General Meeting last year, members voted to change how we work. One of those changes was to remove the annual £5 subscription fee for membership. We hope this means more people can join our community and work together to stop MS.
We don't want cost to be a barrier for anyone who's thinking of joining our community, so (instead of charging a mandatory membership fee) we're asking people to contribute what they can when it's possible. There will be a £5 charge to receive printed editions of MS Matters three times per year.
As part of the changes to membership, we've also been developing a new experience called For you. It's been created for the MS community, to empower them with the knowledge and connections they need to help them live well with MS. Our first step in changing what we offer our community is launching a new online and interactive space on our website.
For more information on the changes to membership, click this link.


About For you / How we've developed it
For you will give anyone who used to be a member additional online benefits. And give new audiences an enhanced experience on our website.
We developed For you with people living with MS. We listened to what they told us and created it to:
be inclusive. It's free and anyone can create an account. We don't want cost to be a barrier for anyone who is thinking of joining the MS Society. So, instead of charging a membership fee, we're now asking people to contribute what they can as a donation.
be flexible. Because everyone's experience of living with MS is different. So there are exciting ways for people to choose what they see and when they see it.
bring the MS community together. For you is full of opportunities to connect with others, find support and share knowledge.


Benefits
By signing up to For you, anyone can create a personal space on our website and feel at home. You can sign up on the website here.
From your space you'll be able to:
tell us about the information, news and stories you're interested in
enjoy recommended content matched to your interests
bookmark pages on our website and find the content that's important to you in one place when you need it
join the conversation, find support and build relationships on our new forum
save your postcode to see events and services in your area. We've started improving the 'Near me' area on our website and will develop it further. This will make it even easier for people to find information and services, and sign up to local groups.
subscribe to our MS Matters magazine.



Help us spread the word
As a volunteer, we know the relationships you build with your local MS community and the support you provide have long-lasting benefits. Not only to those within your group but also to their family and friends.
By helping us spread the word about For you, we hope more people affected by MS will join our community.



Tell us what you think
For you is brand new. Tell us what's working, what we can improve and what else you'd like to see.
We'll use your feedback to keep developing For you, so it's always tailored to what our community needs.
Follow this link to tell us what you think about For you so far.



For you resources
We want you to feel confident when talking to your group members about For you, so we've put together the resources below to support you:
Support available
Anyone who signs up will receive a series of emails to support them to get the most out of For you. And our friendly team are also on hand to answer queries.
General queries
Our Volunteer Support Team are available to support you with any general questions you have. You can contact them at [email protected], or by calling 0300 500 8084 (option #3).
Technical queries
Alternatively, if you have any technical queries about For you, please email [email protected].