Submitted by

Romi Rauber

on Fri, 2021-08-27 12:16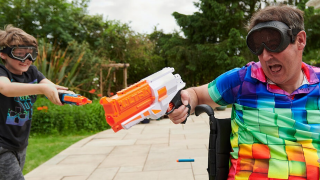 "We Are Undefeatable" is a movement supporting people with a range of long-term health conditions, backed by expertise, insight and significant National Lottery funding from Sport England. It was launched in 2019 to inspire, reassure and support people to be active by showing people living with a variety of conditions – both visible and invisible – on their own journeys to being active. The movement was initially developed by the Richmond group. It is now been shared by many other charities. We've been involved since the start of the campaign and will continue share the important message around physical activity for people with long-term conditions.
The new TV advert
We Are Undefeatable casted six new case studies for their new TV advert for the summer 2021 campaign. One of them is Mark Webb who lives with MS.
Find out more about Mark
Mark's MS been progressing for several years, now to the point where he is in a wheelchair for the majority of the time. But his unwavering spirit continues to shine through, whether he's having a laugh with his kids and wife or is raising awareness of MS with the aid of his colourful hair and brightly coloured outfits.
Due to his condition progressing, Mark's had to find new ways to do the things he loves with his family, like finding wheelchair friendly routes for their regular walks in the woods.
A few years ago, Mark joined a wheelchair rugby team for people with a range of health conditions and disabilities and has enjoyed it ever since. He jokes that although he is the slowest on the team, they welcomed him with open arms.
You can read more about Mark and how he stays active here.
Find what works for you
In December 2020, we did a review of the evidence on physical activity, where people living with MS completed a course of exercise. The evidence appears to show that there were few negative effects from the exercise and in general people completed the full course. It's likely to show some benefit for people's wellbeing and functional abilities such as walking, balance and muscle strength.
We think that this campaign shows the realities of MS for some people, but we understand that not everyone with MS will be able to relate to it in the same way. However, the main message that we want this campaign to give people is to 'find what works for you'. For some, the idea of taking part in regular exercise may seem really daunting. But whether symptoms are mild or severe, everyone with MS can benefit from getting active. Even light exercise can improve emotional wellbeing, ease anxiety and help with depression.
The We Are Undefeatable film is currently being shown on TV so keep an eye out for it. You can also watch the film on on YouTube by clicking this link.
We hope that this campaign will encourage and motivate everyone to get moving in one way or another.