Submitted by

Jo Webber

on Fri, 2021-10-22 09:42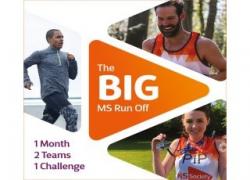 Our virtual running challenge, the Big MS Run Off, is back this November and we're calling all MS Superstars to take part.
Join one of our two rival teams of runners from across the country to compete for the glory of running the furthest distance, whilst raising vital funds to help stop MS.
You'll be led by one of our captains who will keep you motivated and update you on your team's progress throughout the month, as you clock up the miles together.
Meet our team captains
Once again, we've got two amazing captains for 2021, Philippa and Neil. Philippa has MS and Neil's brother-in-law lives with MS. So, whether you're a seasoned runner or have just started Couch to 5k, Philippa and Neil want you in their team!
Here's what they say:
Philippa
'My name is Philippa and I live in Belfast, Northern Ireland. I was diagnosed with MS in June 2017 and got involved with the MS Society shortly after. I've been a member of the MS Society council for the last three years and enjoy helping out and taking part in the different events the Society holds.
I'm really excited about the Big MS Run Off 2021 and would love as many people as possible to get involved and be a part of Team Philippa! Together we can raise vital funds for research to help Stop MS!'
Neil
'I knew nothing about MS until 2019 when my brother-in-law was diagnosed. It was a tough time for him and the MS Society was a major support for Nick to come to terms with the diagnosis. I really wanted to support Nick and decided that running a half marathon every weekend for a year sounded an equally exciting and terrifying challenge. I thought it would be a great way to support Nick and raise money for the MS Society. Running also became part of Nick's life too. He found it helped manage his MS and unknowingly we both signed up to run the London Marathon, of which I ran for the MS Society.
Now I'm taking part in The Big MS Run Off 2021 and I'd love for you to be a part of my team'!
How does it work?
Just before the Big MS Run Off begins, you'll be assigned to either Team Philippa or Team Neil. You'll then need to log your miles on a fitness app - Strava is great for this as it tracks and analyses every aspect of your activity, and it can be connected to your JustGiving Page. Alternatively, send us a picture of your completed miles on your chosen app so they can be added to your team's total.
We'll keep you updated on your team's progress every week and we'll celebrate your achievement at the end of the month at an online event.
There's no minimum sponsorship requirement, but £100 is a great place to start. Everyone who raises £50 or more on their JustGiving page will receive an MS Society branded running top.
Neil and Philippa can't wait to have you on-board!