Submitted by

Romi Rauber

on Thu, 2021-11-18 13:01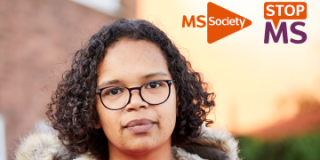 If you don't already know, our Stop MS Appeal is our campaign to raise £100 million to find treatments for everyone with MS.
To stop MS, we need treatments that repair lost myelin and protect nerves from damage, as well as ones that prevent immune attacks. And through funding more world-leading research, we'll help to enable new studies, vital infrastructure projects and ground-breaking clinical trials.
By 2025 we aim to be in the final stages of testing a range of treatments for everyone with MS.  We won't stop until we have treatments for everyone with MS.
What's new?
The Stop MS Appeal has a new creative look and feel which we're calling 'We Won't Stop'. You'll see this phrase throughout the campaign and we've also developed new key messages to incorporate this.
For Christmas activity specifically, this year's theme is 'Christmas Wishes' – a key wish being that everyone living with MS has access to a treatment.
This is a multi-channel Christmas marketing campaign to encourage existing and new supporters to donate to the Appeal.
We've already sent a direct mail pack to existing donors. And a reminder mailing will go out later in the month

Stop MS will be taking over the MS Society website and social media in the lead up to Christmas, so keep a look out and please repost if you'd like to help us spread the word!

We'll have paid digital marketing activity across Facebook, Instagram, Google and the web

We'll be inviting existing supporters to donate via email
Introducing Sasha
The face of this year's Christmas burst is the amazing Sasha! Sasha has very kindly and generously shared her story, and took part in a Christmas themed photoshoot with her children back in September!
Sasha was diagnosed with relapsing MS in 2019. She's shared her experience of being diagnosed and then gaining access to a treatment that has had a remarkable impact on her life. Her wish is for everyone with MS to have access to a treatment like she does and to ultimately find treatments that will stop MS. We'll be featuring some blog posts from Sasha throughout the burst so please keep an eye out on our website and other channels.
What else is happening?
We'll also be using this as an opportunity to update supporters on the promising work taking place at our Centres of Excellence in Cambridge and Edinburgh.
Plus, a team made up of people living with MS and world-leading experts is at the last stages of a careful selection process to identify the first treatments to be trialled in Octopus. We're hoping to announce them in early 2022.
Once we can confirm the selected ones, we'll be able to take the pivotal step of recruiting people to take part in the Octopus mega-trial. For now, if you know anyone who'd like to register their interest, relevant information is on our website here.