Submitted by

Romi Rauber

on Fri, 2021-11-05 15:00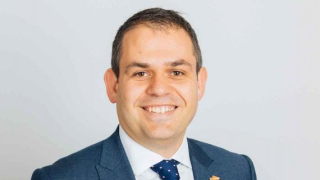 Today we'd like to share some news with you about a change to our Executive Group. Ed Holloway, our Executive Director of Digital and Services, will be leaving the MS Society at the end of the year.
Ed has been with the MS Society for almost 14 years and has become a pillar of support for our volunteers and community, having direct relationships with many volunteers. Helping to shape the support for volunteers across the UK to deliver their services and activities, and of course being an integral part of our monthly Volunteer Voice events. He'll be greatly missed.
Ed has made a huge contribution to this organisation and has helped to deliver some incredible achievements. We don't have time to list everything here, but some highlights include launching the MS Register, mapping access to treatment and support systematically for the first time with the first My MS, My Needs survey, and developing our first organisational strategy that was driven directly by the perspectives of people affected by MS.
In his current role Ed has been a passionate advocate for co-production in our service delivery, and has helped lead the ongoing growth in the range, quality, reach and impact of our services.
Ed feels incredibly lucky to have a rewarding and challenging experience here and is very proud of colleagues and volunteers across the organisation and what they've achieved together.
We'll be recruiting into the role in the new year and will be in touch to introduce you to Ed's successor as soon as we're able to.
Many of you will have known or heard from Ed at some point over his 14 years working here, and we're sure you'll join us in thanking him for his contribution, and wishing him all the best for his future career.
If you have any questions or concerns, please contact the Volunteer Engagement and Communications Team.