Submitted by

Romi Rauber

on Wed, 2022-04-06 16:06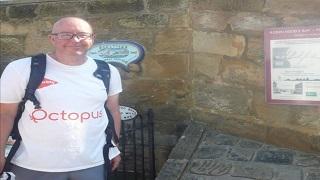 Gary Rushworth is no stranger to long walks, having done many over the years to raise money for causes which have touched his life. But the journey he's about to embark on to raise awareness of MS will be his greatest challenge yet – and the one closest to his heart.



Gary (64) will be walking the length and breadth of Great Britain in memory and celebration of his late wife, Moira.
Moira's story
Moira was diagnosed with progressive MS in 2002. Drugs helped for a few years, but then stopped working, and her mobility started to deteriorate. Moira had always been very active and full of energy, playing badminton and running around after her two daughters. When she had to give up driving and rely on a wheelchair, she found the loss of independence very hard to come to terms with.
As the years passed (with Gary giving up work to care for her), MS impacted Moira's immune system, leaving her prone to infections which made her increasingly frail. And then her cognitive function and ability to swallow were also affected. By the start of 2020, it was clear that Moira's quality of life was rapidly deteriorating. The family had hoped that she could end her days at home or in a hospice. But it wasn't to be, and Moira died in hospital after two seizures.
Gary's walk
Gary's 1800-mile journey will include walking from Land's End to John O'Groats (climbing Ben Nevis on the way), and crossing the country from St Bees Head on the west coast to Robin Hood's Bay on the east coast.
The itinerary is built around the places and dates connected with Moira's life. So, Gary will set off on 14 April in Carlisle (the date and place where they first met) and finish in her birthplace of Longtown on 25 September (which would have been her 60th birthday). The months in between will see him pass through other important locations in their lives, such as where they got engaged and were married.
Gary says
"I'm doing this because I love walking and Moira developed a love of walking after we met. It was one of the first loves that MS stole from her, ultimately preventing us from having the twilight years of our lives walking the paths of this beautiful country together."
"Through the publicity for this walk, I want to raise awareness of multiple sclerosis and the need to raise funds for research programmes (particularly the MS Society-funded Octopus project), so that ultimately a cure is found. Moira unfortunately received little in the way of medication that gave her the treatment she needed, and it was heart-breaking to see her life painfully ebb away, and finally be lost far too soon."
"I want to do something that will help make it possible that what Moira suffered and affected her family and friends doesn't happen to others."
Supporting Gary
Gary has set himself a huge and very personal challenge. We know he'd be delighted to receive the support of our local groups as he makes his way across the country.
You can find his proposed itinerary here, but this could change, so keep up with the details by following him on social media:
Facebook: https://www.facebook.com/WalkingforMS  
Instagram: https://www.instagram.com/walking_for_ms/  
Just Giving: https://www.justgiving.com/fundraising/walking-for-multiple-sclerosis
Please also share these pages through your own social media channels to promote his fundraising story.
Finally, if Gary's journey will bring him to your area, you could generate publicity by contacting your local media on his behalf. There's a press release here which you can send them. And you could, of course, get a crowd together to cheer him on as he passes through. He'd love that.
Good luck, Gary – and thank you!