Submitted by

Jo Webber

on Thu, 2022-06-30 09:41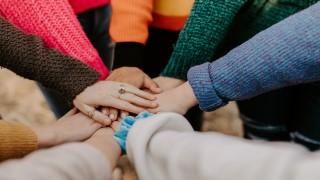 What is co-production?   
People with MS and their loved ones are experts in their condition. We call them 'Experts by Experience', and we work with them to find solutions to the challenges people living with MS face. 



It's only by involving our community in the planning, development and delivery of services that we can be sure the end result will meet their needs. When people living with MS are fully involved in every stage of a project, we call this co-production. 
Watch our video here on 'Why we co-produce' to hear more from our Experts by Experience, like Louise. Alongside volunteering with her local group, Louise helped to co-produce the Pontio Project in Wales, which secured half a million pounds to support the MS community there.  
Thank you to all our Experts by Experience    
Some of our local group volunteers have been involved in co-producing and shaping our services across the UK. Two of these services which have already made a huge impact are the MS Nurse Helpline service and the Wellbeing Hub in Scotland. Experts by Experience also co-produced the editorial strategy for our largest appeal yet - Stop MS - and co-created animations as part of the appeal. You can watch Theresa's animation, 'I'm not the same person I used to be', here.
If you've taken part in shaping our work through co-production, we want to say a huge 'thank you' for helping make such a difference.   
Join our webinar  
Co-production makes a vital contribution to our work, but it can also make a real difference to those taking part.
In our webinar 'Taking part in co-production: What difference can it make?' (Wednesday 6 July at 6pm) we'll hear from some of our Experts by Experience. They'll talk about the difference co-production's made to them as they've used their skills, represented our community and made new friends.  
You can sign up for the event here. We look forward to seeing you.
Join our Experts by Experience network   
This month, we have some great opportunities where you could share your experience and skills whilst meeting likeminded people. Our Helpline is currently exploring the ways we support our community through counselling and would love to hear about your experiences and thoughts. You can find out more about this opportunity, and others, by joining our Experts by Experience network here.       
Check out our co-production eLearning and toolkit   
If you're interested in co-production, but want to find out more before you get involved, our eLearning course will help you understand how we work together as one MS community. There's a toolkit of hints and tips to see what co-production looks like in action, and you can hear from our Experts by Experience about the difference taking part in co-production has made to them. You can find the eLearning here.