Submitted by

Romi Rauber

on Thu, 2022-06-16 12:07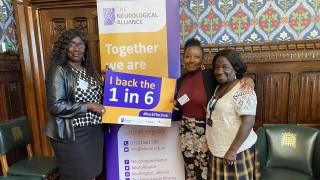 On Wednesday 8 June, we launched a new joint campaign with the Neurological Alliance - 'Back the 1 in 6'.
1 in 6 people in the UK live with a neurological condition but there simply isn't the workforce or services in place to provide the support they need. From delays to life changing treatment and care, to a lack of mental wellbeing support and inconsistent access to information - we know this is something that affects too many people with MS.
We're joining neurological charities across the UK calling for action to improve neurological services. This is the next phase of our Neurology Now campaign from last year. And we're asking people to sign a petition to call for the establishment of a Neuro Taskforce to bring together governments, health and care professionals and people affected by neurological conditions to drive forward positive change.
The Taskforce would help to address common problems including health and care workforce shortages, growing waiting lists and barriers to accessing mental wellbeing support.
Join the campaign
Please join the campaign and help by signing the petition and sharing with family and friends #BackThe1in6
The campaign was launched with a parliamentary event which our supporter Rebbecca, who lives with MS, attended along with her family. We spoke to MPs about the campaign, and to other organisations supporting people with neurological conditions.
A debate also took place on neurological services in the House of Lords, which helped us raise awareness of the campaign and the challenges people with MS face in accessing treatments and services. You can read more about this on our website.
If you have any questions, please get in touch with the Campaigns Team on [email protected]