Submitted by

Jo Webber

on Tue, 2023-02-21 09:57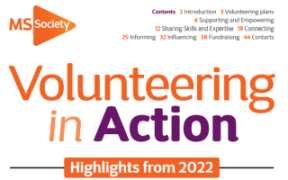 Without your support we couldn't do all that we do for people living with MS. Together, we achieved so much in 2022. We communicate about our wins all year round. But it can be hard to keep track of everything we have to be proud of. To demonstrate all that's been achieved across our volunteering network, we've collated key highlights from last year in our 'Volunteering in Action' booklet.
What's in the booklet?
It was no easy feat picking the highlights – there were so many! The booklet is full to the brim of volunteers' success stories, updates on progress and future plans, and comments and thoughts from staff in the Volunteering and Community Networks team, as well as our CEO Nick Moberly, and Chair of Trustees, Sir Paul Curran. We also celebrate our brilliant Impact Award winners and finalists, highlighting their achievements and contributions to the MS Society.
The booklet has been designed around the six key Impact Award themes; Supporting and Empowering, Sharing Skills and Knowledge, Connecting, Informing, Influencing, and Fundraising. It covers key highlights from campaigns, research, local groups, and much, much more!
Due to budget constraints, we weren't able to post a print copy out to all our volunteers. But we've sent it to some in key roles, which we hope they'll be able to share locally.
Download our 'Volunteering in Action' booklet here.
Listen to the audio version here.
And once you've read or listened to the booklet, please complete our short, anonymous, feedback survey to let us know what you think.